The following message from ESUSD Superintendent Melissa Moore was emailed to ESUSD families and employees on Jan. 14, 2021.

Dear ESUSD Employees, Families and Community,
Since my last communication on January 10, 2022, there has been a significant decline in positive cases of COVID-19 on ESUSD campuses. For the period of January 11 – 14, 2022, we have 28 newly reported positive cases among students or staff who have been on campus. Schools have notified all individuals identified as close contacts. The District Nurse is emailing parents of students who tested positive regarding the specific required timelines to follow.
ESUSD Confirmed Cases on Campus January 11-14, 2022
Newly confirmed cases of COVID-19 in one or more students or staff who were on campus during the three-day period spanning January 11 through 14 at noon are as follows:
Eagle's Nest No new cases
Center Street School 1 Student case and 1 Staff cases
Richmond Street School 2 Student cases and 3 Staff cases
The Learning Connection Included in the school totals for CSS & RSS
El Segundo Middle School 3 Student cases and no Staff case
El Segundo High School 16 Student cases* and 1 Staff case
Arena High School No cases
District Office 1 Staff case
*The majority of student cases at the high school are connected to youth sports programs.
With the steady decline in cases, I will likely no longer be providing a districtwide update on this topic. Notification of COVID-19 cases will revert back to the school site's responsibility.
Attendance Data
In addition, there is good news that we have seen a steady increase in the number of students attending school in-person. The attendance snapshot below reflects districtwide attendance as of January 13, 2022.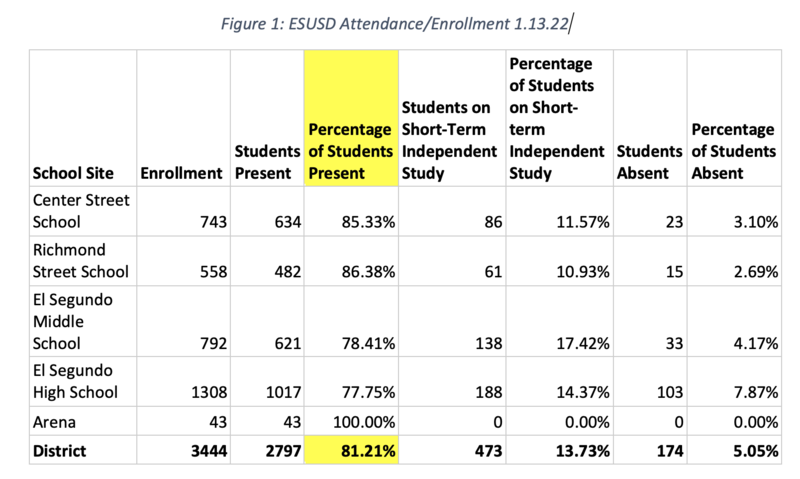 Board Presentation
On January 11, 2022, Marisa Janicek, Assistant Superintendent of Educational Services, Dr. Melissa Gooden, Executive Director of Human Resources, and Ms. Kimberlie Linz, Chief Business Official provided the Board of Education with a comprehensive update regarding ESUSD's response to the COVID-19 surge. You can view the presentation here.
Closing Thoughts
As you can see from this correspondence, there are positive indicators that perhaps we have reached a peak and stabilized. We now look forward to a steady decline in cases and return of students to campuses in the near future. The District will continue to update our COVID-19 Dashboard to reflect the current number of cases at each school site, as well as other COVID resources accessible via the School Safety: COVID-19 webpage. We want to thank you again for your patience and understanding as we all navigate this unprecedented situation. We will keep you updated via email, social media, and our website, and we hope you stay well.
With gratitude that we are in this together,
Melissa Moore, Ed.D.
Superintendent
El Segundo Unified School District