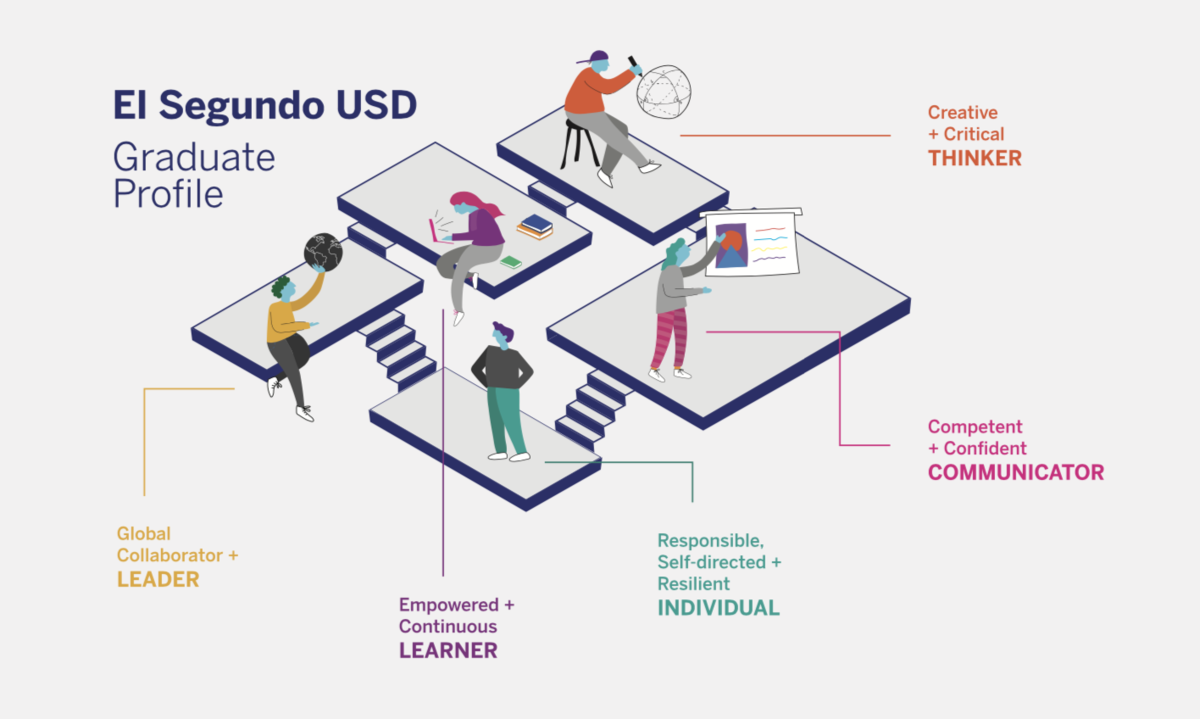 What is a Graduate Profile?
A graduate profile is a document that a school district develops with input from local stakeholders to specify the cognitive, personal, and interpersonal competencies that students should possess when they graduate from high school. A graduate profile outlines the necessary foundation for students' future success in college and career. The Graduate Profile serves as a True North, for which future district goals are formulated and aligned. Co-created with input from key stakeholders, this profile is a clear visualization of priority goals for teaching and learning that can be easily communicated to students, parents, faculty, and staff to align their collective efforts. A school district's adoption of a Graduate Profile is a nationwide movement to address the shift necessary in education to prepare students for the jobs of the future.

Why do we need a Graduate Profile?
The landscape of public education is changing, and ESUSD continues to work to improve its student learner profile through innovative teaching practices and programs. Consider this:
As technology continues to evolve, it is clear that automation will be a major threat to both long-term job creation and individual career development. Close to 50% of all jobs that people are paid to do in a global economy have the potential to be automated if the task is repetitious.

By the time kindergartners of today become the graduates of 2030 (and beyond), the world will be vastly different from anything previous generations have experienced.

Education is changing from a standardized system to a learner-centric educational environment that supports adaptability to the needs and potential of each student.

ESUSD is dedicated to helping students build the following new 21st century learning skills: empowered learner, digital citizen, knowledge constructor, innovative designer, computational thinker, creative communicator and global collaborator. In conjunction with the leading research regarding refocusing education's role in supporting students' preparation for the job market of the future, ESUSD used the International Society for Technology Education Standards to initiate the conversation for its new Graduate Profile.

The ESUSD Graduate Profile describes the expectations our community believes are required of ESUSD graduates who can become the successful leaders of tomorrow. The districts that have already engaged in this nationwide initiative have discovered many ways to use the graduate profile as a means for transformative change.
How was ESUSD's graduate profile developed?
Discussions and workshops were conducted with key stakeholders – teachers, administrators, parents, business and civic leaders – to develop the graduate profile for ESUSD. Feedback was obtained through the use of guiding questions such as:
What skills and characteristics should high school graduates develop to ensure success in the workplace of the future?

What skills and characteristics are most important in a graduate?

What can we do as an educational organization to better prepare graduates?
ESUSD teachers and administrators then took the set of 21st century learning skills and applied the stakeholder feedback to develop a subset of skills/attributes and key performance indicators under each category, as outlined on the Graduate Profile Scorecard (see link below).

ESHS Graduate Profile Community Conversation Participants:
Spencer Bauer, EDAC Member

Jaime Bermudez, ESPD

Neil Cadman, Community Leader

Anarissa Canchila, Express Pros

Greg Carpenter, City of El Segundo

Nancy Cobb, Board of Education

Chris Donovan, City of El Segundo Fire Department

John Erickson, Los Angeles World Airports

Lance Giroux, Community Leader

Frank Glynn, Saga Architecture

Tara Hitzig, Automobile Driving Museum

Eric Hoffman, Booz Allen Hamilton

Jessica Ku Kim, South Bay Workforce

Charlotte Lassos, Straight Up Communications

Latrice McGlothin, Kinecta Credit Union

Scot Nicol, City of El Segundo

Carol Pirsztuk, City of El Segundo

Duane Plank, El Segundo Herald

Jeff Puffer, Community Leader

Lance Ralls, EDAC Member

Dr. Michele Rogers, Optometrist

Dr. Karen Siebert, UCLA Health

Eva Sweeney, Art Lab

Barbara Voss, City of El Segundo

Dr. Bill Watkins, Board of Education