ESUSD Educational Opportunities Form is available. ESUSD recommends and encourages all families who might benefit from opportunities provided through the Educational Opportunities Household Income Data Collection Form submit a form to the district. Qualifying students are eligible for more programming than just meals at no cost. Other potential benefits include: TLC at reduced or no cost for the 2022-23 school year, waiver of college application fees when using the Common App, no college application fees for up to six UC and CSUs, AP test fees waived, fees for standardized tests like the SAT and ACT waived, Wi-Fi devices for home access, discounts on energy bills, pandemic EBT (information in link). The information on this form is confidential. Form can be found here:
https://drive.google.com/file/d/1jcqauu1baKop7F5to2LAbjedfqYh-lzu/view?usp=sharing

Last week, we held the groundbreaking ceremony for the new El Segundo High School Band/Community Based Instruction & Concession building! We are incredibly excited for this new space and the opportunities it will provide our students.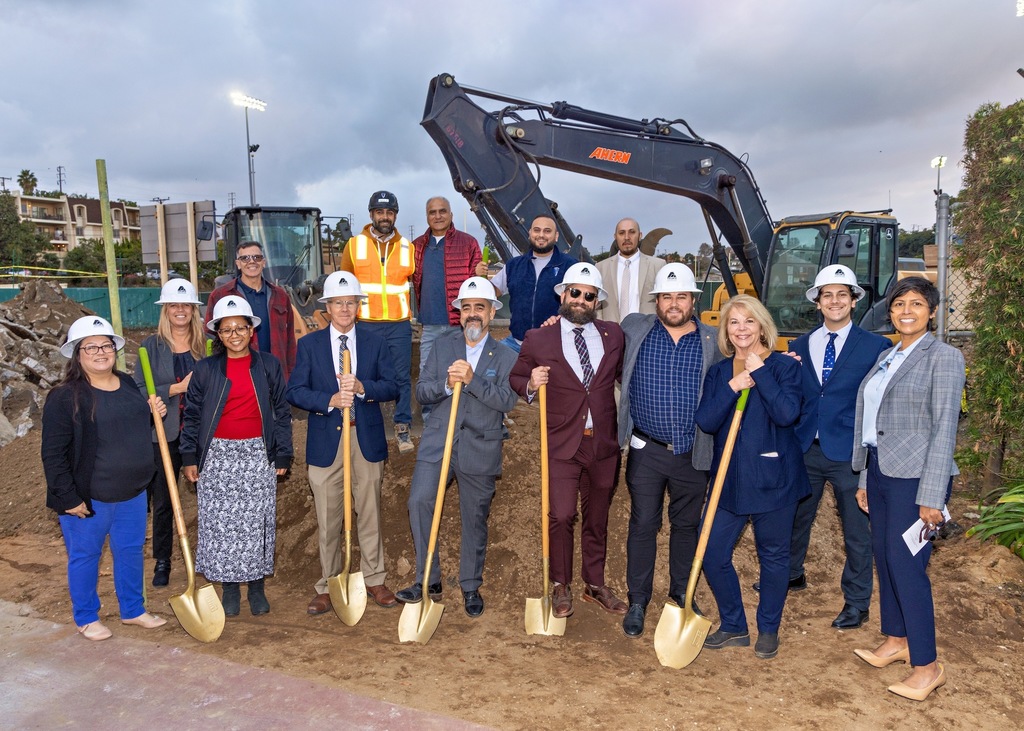 Today is the kickoff for Computer Science Education Week, and we're excited to celebrate the opportunities our students have to learn about computers and technology!

On International Volunteer Day, we honor and celebrate volunteers in our schools and throughout our community. This is also a great opportunity to consider the ways we can all contribute to building a better world. Through donations of our time and talents, we can make a big difference!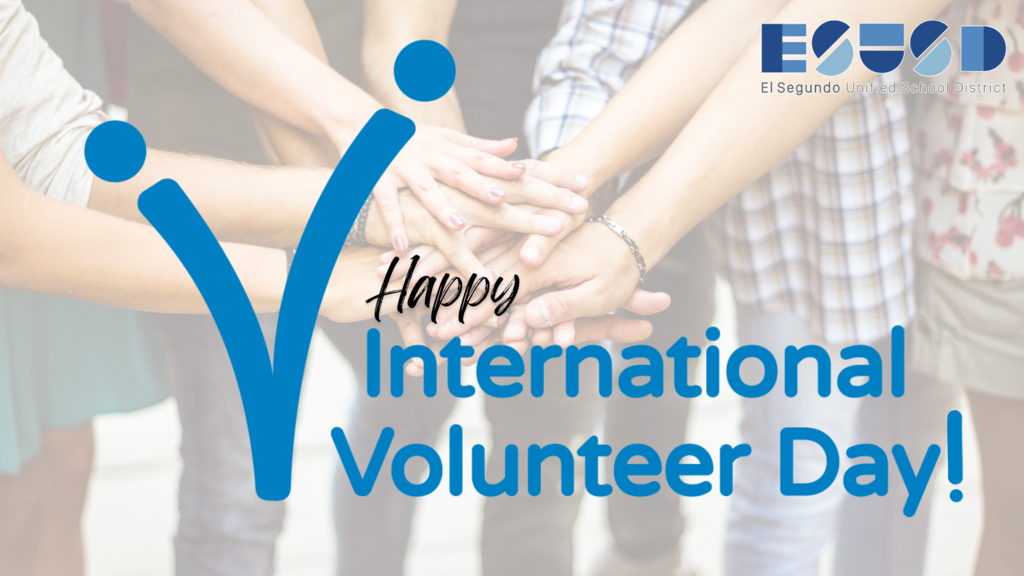 On Special Education Day, we want to recognize our special education teachers and staff for their outstanding work and dedication. Our students with special needs benefit from your knowledge and commitment every day. We sincerely appreciate all you do!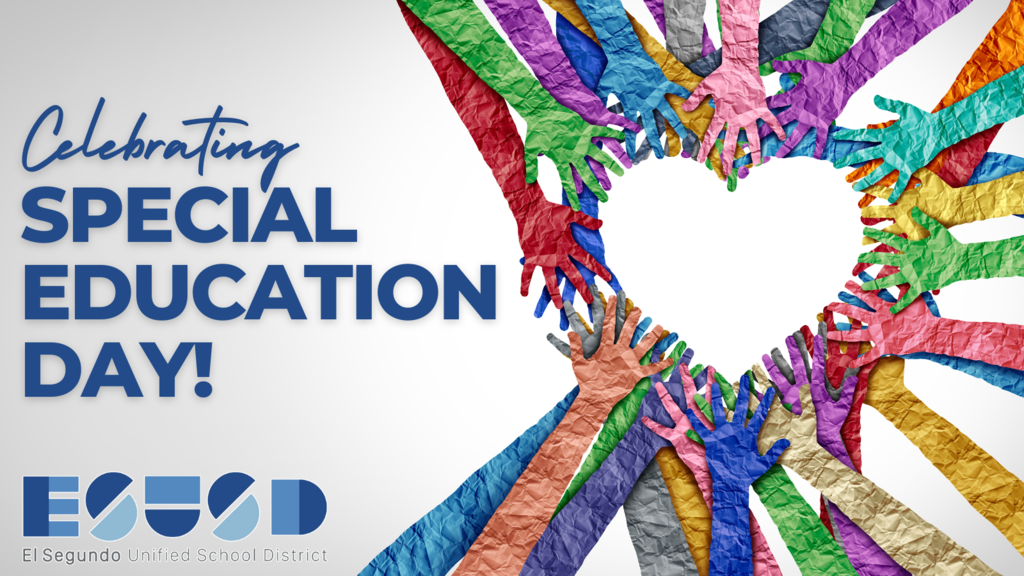 In addition to the spread of RSV and the continuing presence of COVID-19, cold and flu season is here. This means students have a number of respiratory illnesses they might encounter at school. Let's work together to lower the spread! Check out these tips from our local public health officials:
https://www.elsegundousd.net/article/910617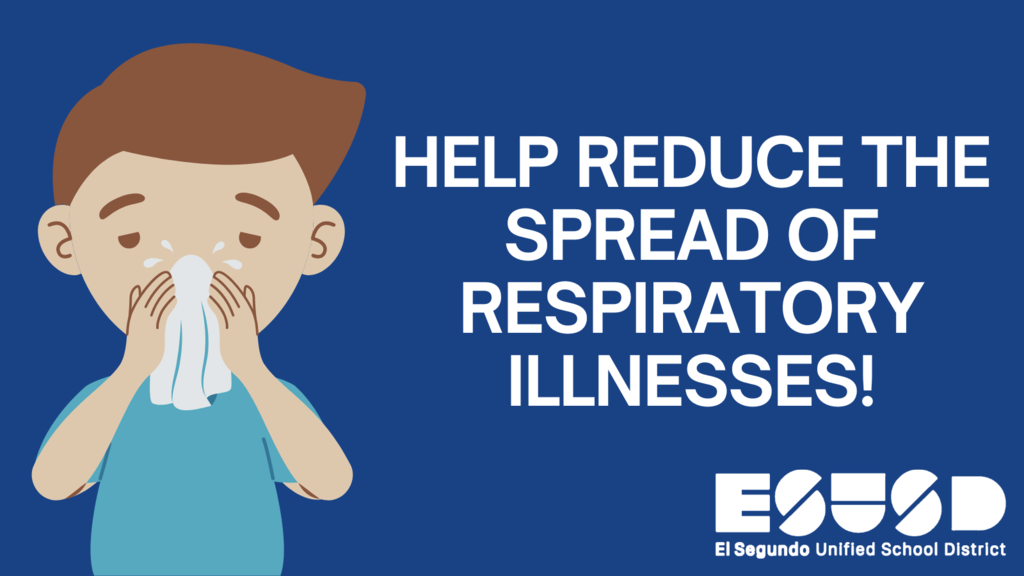 On Saturday, the El Segundo High School P.O.T.A.T.O.E.S. robotics club participated in a California Region 4 VEX Robotics competition! Team 1759A came home with the DESIGN award. Congratulations to our talented and hard-working students!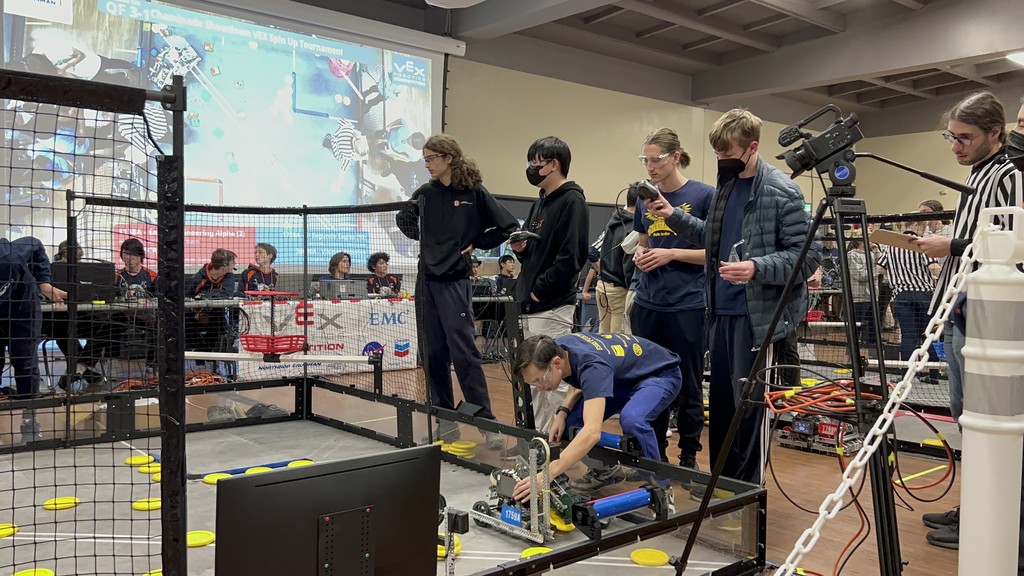 REMINDER: School for all ESUSD students resumes on Monday, November 28. We hope everyone had a great break!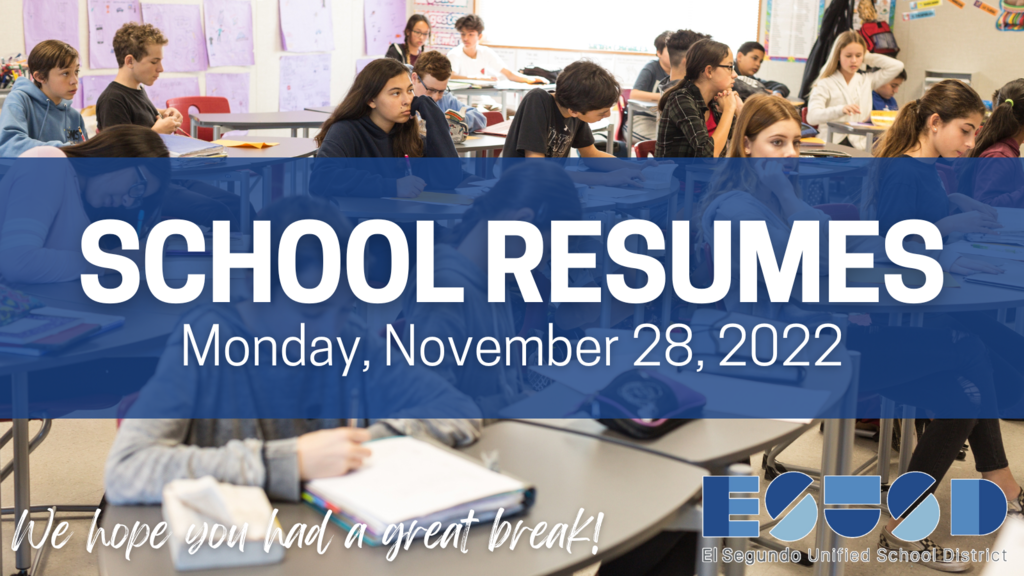 Happy Thanksgiving to our ESUSD community! We hope you have a happy and relaxing holiday. 🦃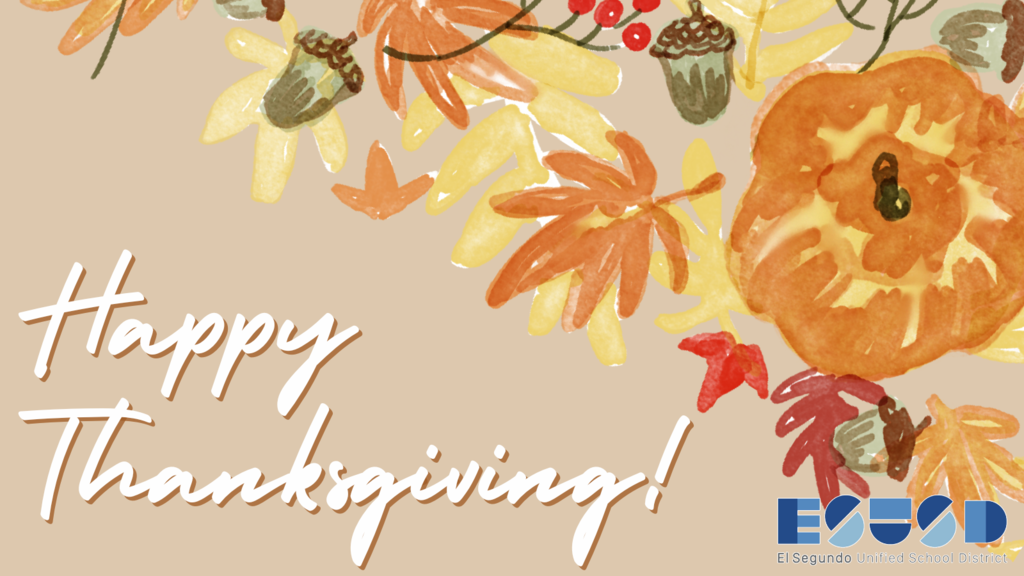 Check out the summary of the topics discussed at the October 25 Board of Education meeting!
https://5il.co/1kkmu

We want to wish all who have served in our nation's armed forces a very happy Veterans Day. 🇺🇸 We're grateful for your sacrifices on behalf of all of us.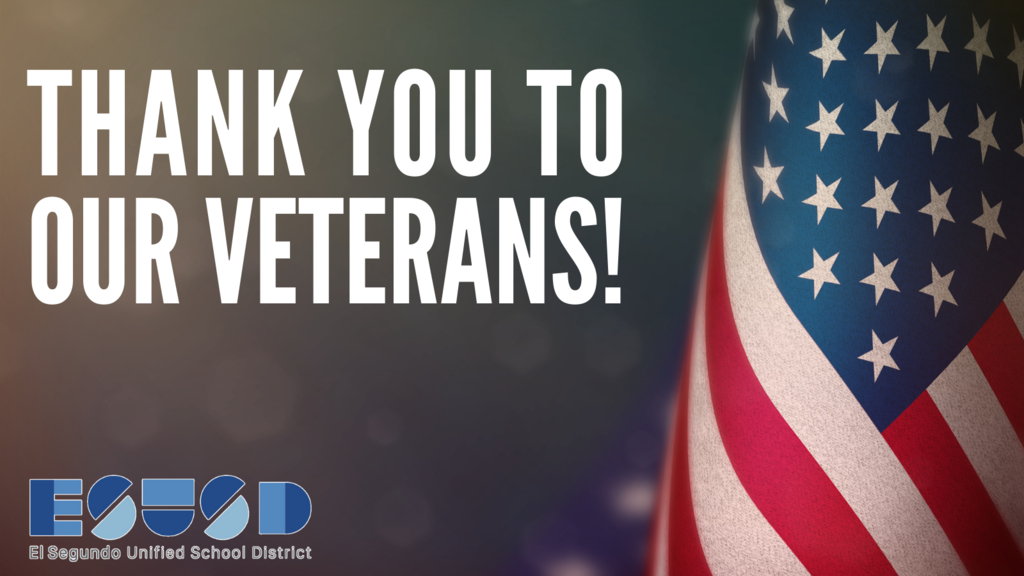 Happy STEM/STEAM Day! It's increasingly the case that science, technology, engineering, art & math impact our lives in unexpected ways. As a Project Lead the Way district, ESUSD provides our students robust learning opportunities in STEAM exploration!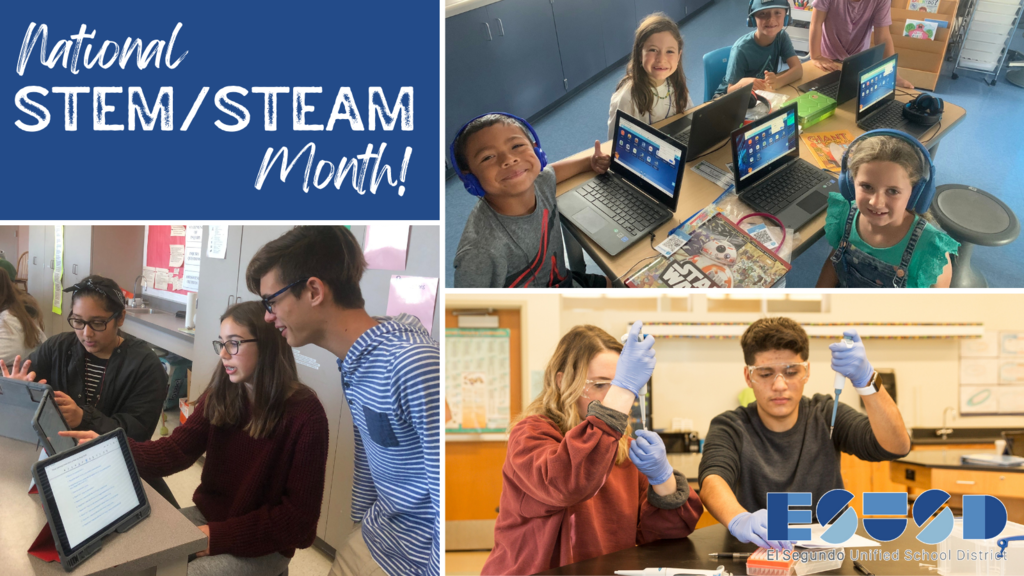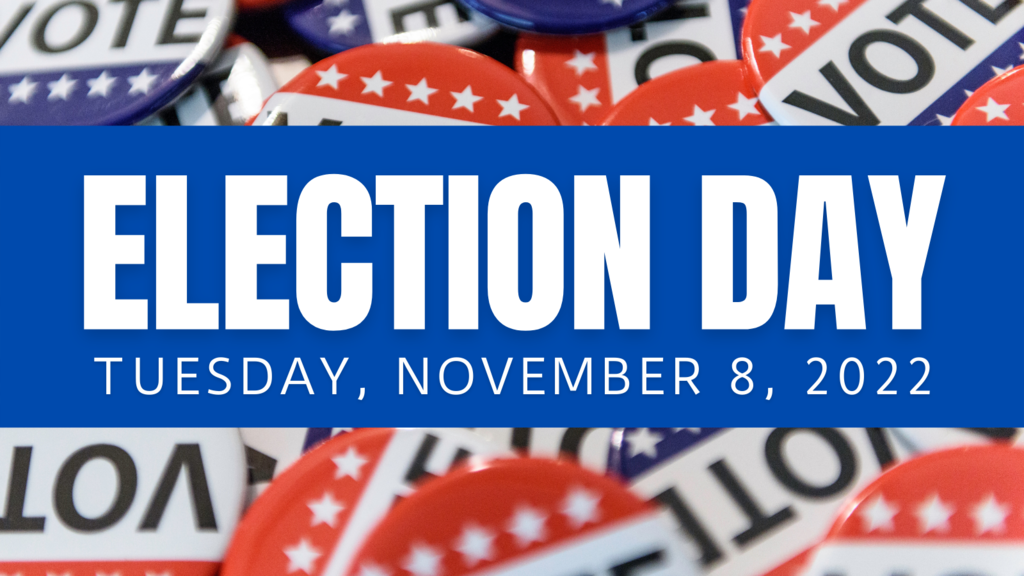 On Tuesday, all ESUSD schools will participate in the Great ShakeOut drill in preparation for a potential earthquake. Learn more about the program and earthquake preparedness:
https://www.shakeout.org/

The ESUSD Board of Education will hold its next meeting on Tuesday, November 8, at 6:00pm in the District Office Board Room (641 Sheldon Street). Find board agendas, minutes and other information here:
https://go.boarddocs.com/ca/esusd/Board.nsf/Public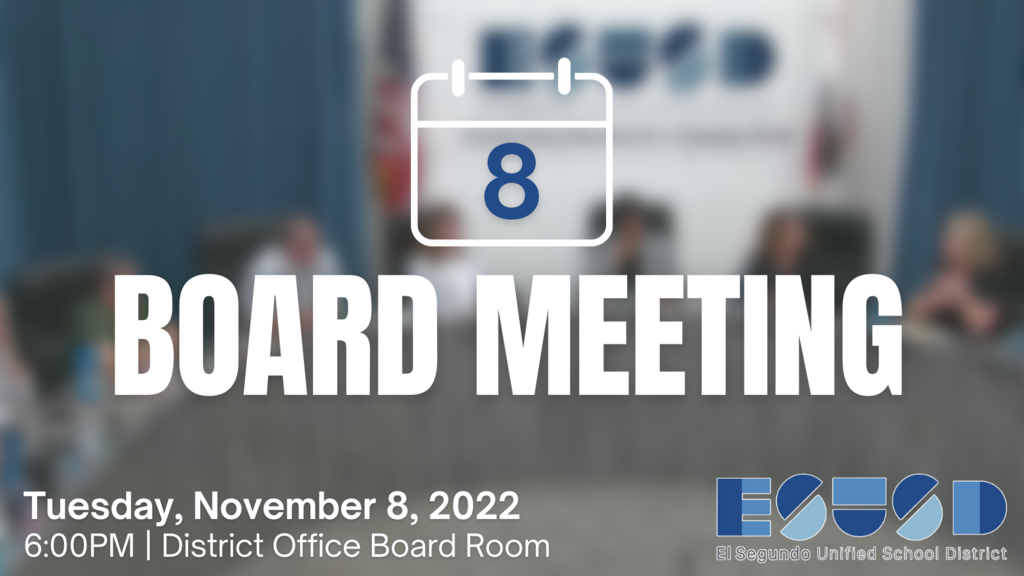 REMINDER: Daylight saving time ends this weekend. Set your clocks back an hour on Saturday night and wake up to an extra hour of sunshine! ⏰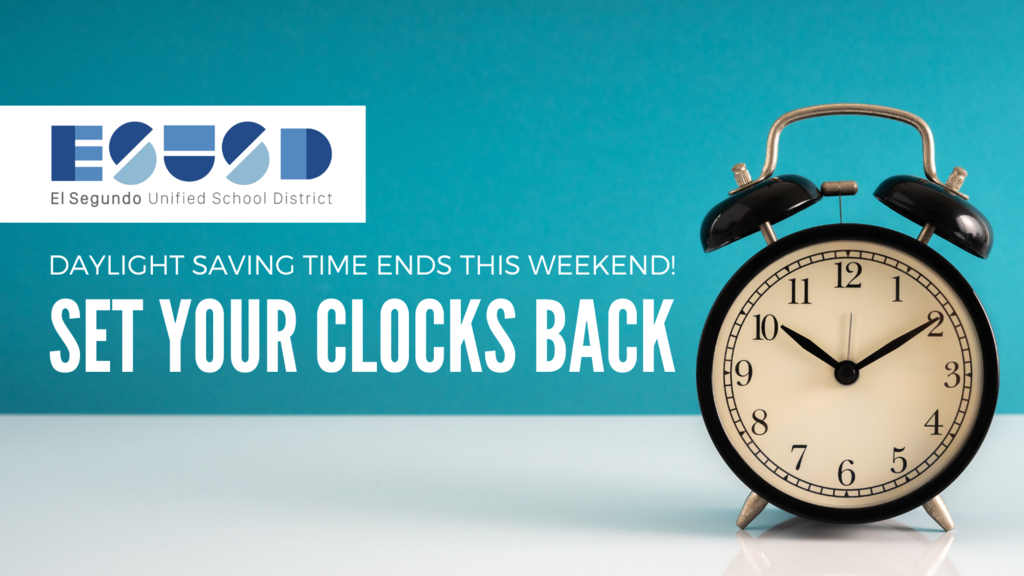 The 2022 Skechers Pier-to-Pier Friendship Walk was held on Sunday, October 30! A big thank you goes out to everyone who made this event happen, including Skechers, the El Segundo Education Foundation, the Friendship Foundation, State Assemblymember Al Muratsuchi, and our entire community!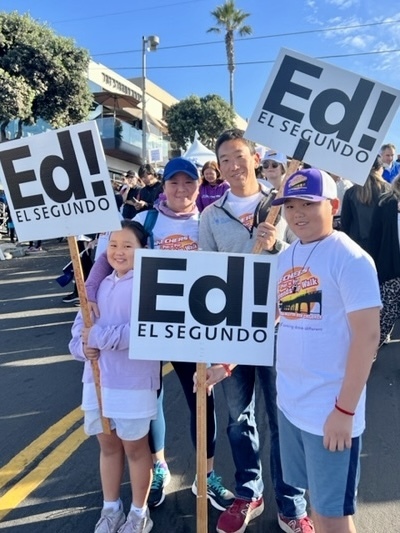 The LA County Bicycle Coalition will visit ESUSD later this month! Experts will provide a brief presentation on e-bike safety, followed by a skills course. The event will take place Saturday, November 19, at 10 a.m. at Center Street School parking lot. Registration is free, but space is limited. RSVP by emailing Casey Cline at
ccline@elsegundo.org
.

REMINDER: The El Segundo High School PTA meeting will be held tonight at 7:00pm in the high school cafeteria.