September 29, 2022
Dear ESUSD Family,
It is great to see the school year off to a wonderful start. When visiting schools, I can see firsthand students are highly engaged in learning and our administrators and faculty are working diligently to build each student's sense of belonging on campus. ESUSD recognizes that a student's sense of belonging is not just a function of what goes on in the classroom but also a function of extracurricular or co-curricular programming. Such activities enrich the educational and social development of a student and enhance feelings of connectedness with the schools. Based upon inquiries the Board and I have recently received, in this communication I would like to specifically provide an update on topics related to middle and high school athletics and facilities for our families who are seeking clarity.
Middle School After School Sports
History
In researching middle school sports, it appears the District has not offered a program for more than 15 years. In 2014, El Segundo Middle School (ESMS) offered after school programming, which included sports through a contracted third-party. Eventually, concerns regarding sports began to surface and ESUSD allowed The Academy by Ed! to serve as the third-party provider of after school sports. Due to challenges of COVID-19, sports programs started and had to pause for a duration. However, the Academy by Ed! had committed to restarting the sports this Fall.
2022/23 School Year
Last week, Principal Sarah Davlantis and I received official notification that the Academy by Ed! was unable to move forward with offering after school sports. Please know that the District is actively researching and planning to explore solutions moving forward. The middle school years are indeed an important time in our children's lives and it is imperative that opportunities occur such as clubs, sports, interventions or enrichments, which can genuinely enhance a student's experience and lead to the development of a greater sense of belonging overall at school. The District and ESMS look forward to sharing more logistical information regarding after school sports in October. The Academy by Ed! agreed to provide the District sporting equipment and uniforms previously purchased. Ms. Davlantis will be sending out a student interest survey this weekend.
El Segundo High School Coaching Periods
History
Prior to 2008, El Segundo High School (ESHS) was able to offer a coaching period to certificated teachers who coached: this meant that a teacher taught four class periods in their content area, had one period of coaching during their season, and one conference period on their daily schedule. The high school administration was able to offer coaching periods within the allocated number of teachers. Due to the recession in 2008, budgets had to be cut significantly upwards to 20% across the District, including athletics. At that time, the coaching period was eliminated and was never restored.
Representation of Teacher Coaches
El Segundo Teachers Association (ESTA) is the exclusive representative for all certificated employees in ESUSD (non-administrative). Thus, any certificated teacher who coaches falls under this umbrella of representation as well. Recently, the District received a request to meet and confer from ESTA on the topic of reinstatement of coaching periods. Through pre-COVID bargaining with ESTA, the reinstatement of coaching periods was indeed a topic of discussion. As with all operations, this topic was placed on pause due to the significant disruption of COVID on athletics, schools, and the District. At this time, both ESTA and the District consider this matter to be a priority. The District looks forward to working with El Segundo Teachers Association to expediate a comprehensive and systemic solution related to certificated teachers coaching period directly and indirectly. ESUSD is fortunate as ESTA are collaborative labor partners who represent their membership fairly and work with the District as active solution seekers.
Vacant Coaching Positions
ESHS has two coaching positions that are vacant at this time. It is important to note in both instances, the positions are for Spring sports, which allows adequate time to recruit and hire a quality coach for both the Girls' Softball and Girls' Lacrosse coaching positions. The Board and I can assure you that there is absolutely no intent to cancel either of those sports for our Lady Eagles. In addition, we are pleased to share that this year, ESHS launched its first ever Girls' Golf team for the Fall. Our school district is fortunate to reside in an engaged and active sports-minded community that offers robust youth programming which feeds into the high school. In the event you may have further questions about coaching at ESHS, you may contact Athletic Director Steve Shevlin at sshevlin@esusd.net or Principal Steve Gebhart at sgebhart@esusd.net.
Joint Agreement for Parks and Recreation
On September 27th, the Board of Education approved a one-year renewal of the Joint Agreement for Public Recreational Facilities. The City Council also agreed to the one-year renewal at their September 20th meeting. We are so grateful to the Council and City Manager Darrell George and his team for our continued partnership. The City of El Segundo and ESUSD Joint Use Agreement for shared use of facilities dates back to 1990. This tremendous partnership agreement states that the "District will have a priority over non-City authorized recreation programs, events or uses in the scheduling of City Facilities." In return the City has priority over non-school programs or uses in the scheduling of District facilities. It allows facility access at the El Segundo Recreation Park location such as, Stevenson Field for Baseball, the adjacent field for Girls Softball, and the tennis courts for Girls and Boys Tennis. A separate Joint Use Agreement allows access for high school Girls' and Boys' Swim and Water Polo teams to use the Aquatics Center.
On Tuesday, Principal Steve Gebhart, Chief Business Official Kim Linz and I met with Darrell George and Aly Mancini, Director of Parks and Library. I am pleased to share that the City and District finalized schedule and usage of City tennis courts for both Girls' and Boys Tennis for the school year. We are thankful to all parties for the collective open spirit of cooperation, collaboration and compromise. We would also like to acknowledge the tennis community, parents, and players for their advocacy of the sport, patience, understanding and flexibility to allow the necessary time for the matter to get resolved. The District and City personnel plan to meet on an ongoing basis to work through various issues related to pending Joint Use Agreements renewals in the future.
Investment in Athletics
In July 2018, the Board of Education placed Measure ES on the November 2018 ballot. Approximately 7,700 community members cast a vote regarding Measure ES, and the Measure was approved at 63.32%. The passage of Measure ES allows ESUSD to issue $92 million dollars in General Obligation Bonds. It is noteworthy that more than 20% of bond funding was allocated towards enhancement of athletic facilities at the middle and high schools. Measure ES major projects that directly benefit athletics and physical education that have been completed include the ESHS North Gym, ESHS South Gym, and ESHS Baseball Field. We are excited about the positive impact the ESMS gymnasium (currently under construction) will have on the middle school physical education program, after school sports, city and community usage, as well as providing shelter for the City in the event of a disaster. The following chart highlights some of the major District contributions toward athletics for the past six years.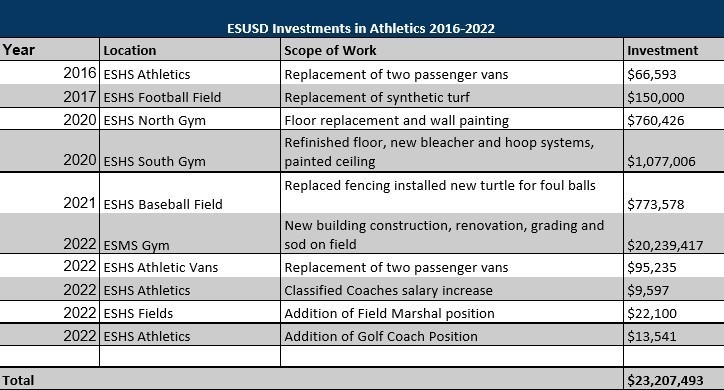 Annually, the District invests in athletics through coaching, physical education teacher and other athletic related salaries. For example, in 2021/22 school year, the total annual cost for coaches for high school athletics was $282,226, which is not in accounted in chart above. Lastly, the El Segundo Ed! Foundation contributes towards salaries of elementary physical education teachers.
Final Remarks
Thank you for your patience and understanding as we work through the proper channels and planning to address these issues. I would like to encourage all to consider a mindset of "assume good will." Using the analogy of a crew team, when we are all rowing in the same direction, we can move faster and accomplish so much. When we all listen with an open mind and an open heart and assume good will on the part of all stakeholders, our schools, district, and community succeed.
Warmest Regards,
Melissa Moore, Ed.D.
Superintendent
El Segundo Unified School District