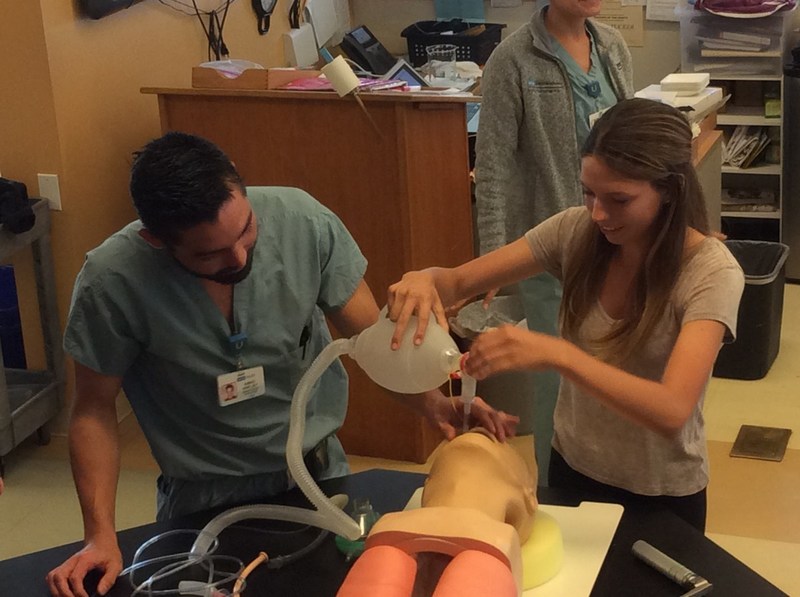 El Segundo High School's Biomedical Science Pathway has established a partnership, through Project Lead the Way (PLTW), with UCLA and the California Society of Anesthesiologists (CSA) that offers educational enrichment to its PLTW program. The partnership is being piloted with two other high schools in addition to ESHS: Venice High School and the Girls Leadership Academy. This exciting project brings together specially trained teachers, students and physician residents from UCLA to help deliver real world biomedical skills and application to the ESHS pathway classroom.

"Our Project Lead the Way Biomedical Pathway students are thrilled to interact with the anesthesiology residents from UCLA," said El Segundo Unified School District Superintendent Melissa Moore. "Working side-by-side with an enthusiastic physician in the classroom promotes relevant learning and ESHS students can more easily imagine themselves in a healthcare career."
The partnership is designed to further excel and support the already successful Biomedical Science program at the participating high schools. A launch event took place last October at Venice High School where a contingent from El Segundo High School including administrators, teachers, and biomedical science students celebrated the partnership.
According to ESHS Biomedical teacher Donna Tucker, this unique opportunity came last year when the ESHS principal asked her to attend a meeting where the potential partners would pitch the idea. At that meeting CSA, PLTW and school representatives sat around a table and explored ideas that were student centered. "I couldn't be more excited and thankful that ESHS students have the opportunity to be a part of this pilot program," said Tucker.
The pilot program is based on the unique collaboration of its key partners: CSA provides overall program coordination and underwrites the cost of the annual teacher training; PLTW provides the curriculum and offers comprehensive professional development during the summer; and the UCLA Anesthesiology department coordinates classroom presentations by physician residents. The UCLA Anesthesiology department is currently working on a plan to host a field trip for the students to the UCLA Simulation Center.
"The Biomedical Science Pathway at ESHS has been an amazing experience that can open doors to exciting real-world job opportunities," said Audrey Butler, a third year Biomedical Pathway student.
Alisa Flores, also a third year pathway student added, "One eye opening experience was being able to talk to medical professionals practicing in the field and learning some basic airway intubation techniques."
In June 2016, the inaugural class completed the four-year Biomedical Science Pathway and graduated. The ESHS alumnae now continue their journeys in higher education—ideally leading to future careers in biomedical sciences.