A ribbon-cutting ceremony was held on November 10 at Center Street School in celebration of the completion of the school's library refresh project funded by Measure ES. And, El Segundo Rotary organizes volunteers to refresh CSS Literacy Garden.
A ribbon-cutting ceremony was held on November 10 at Center Street School in celebration of the completion of the school's library refresh project funded by Measure ES. ESUSD hosted civic, business, and community leaders for the event which featured a tour of the library and literacy garden, recently refreshed by the El Segundo Rotary Club and community volunteers.
The El Segundo Unified School District has developed a thriving culture of reading through its successful elementary literacy program. Literacy is the prominent thread that runs through all our educational programs, so it is fitting that the Center Street School Library/Media Center received a complete remodel courtesy of the Measure ES facilities bond.
In addition, ESUSD and the City of El Segundo have a long-standing partnership for library services. Since the early 1990s, this partnership outlines accommodation for city librarians to provide services to ESUSD schools and ESUSD students can easily access the El Segundo Public Library's entire collection of resources via the school libraries.
"We are excited to give our youngest readers an inviting space better suited to their evolving needs," said ESUSD Superintendent Melissa Moore. ESUSD values its elementary literacy program, and we are delighted to offer this reimaged library as an engaging and comfortable place to encourage Center Street students to read and discover new stories."
The library remodel created an interior that is flexible, accessible, and user-friendly for students, staff, and parents. Upgrades include new flooring, replacement of the existing ceiling with acoustical ceiling tile, updated lighting, and fully renovated restrooms. Several interior walls were sandblasted to restore the beauty of the original brick. Center Street School was named the first California Green Ribbon school within ESUSD, and it was important that the carbon footprint was minimized when creating this space. Sustainable features include energy-efficient LED lighting; energy-saving movement sensors to automatically turn off the lights when the room is not occupied; UV film on all windows to reduce energy consumption; and the carpet is made from recycled yarn. The library is outfitted with all-new furniture for comfort and flexible use of the space. The design incorporates a variety of comfortable studying and reading areas created to encourage students to immerse themselves in their favorite books and facilitate learning.
"We are absolutely thrilled with the end result of the Center Street School Library remodel and are truly grateful for all of you who make a difference in this wonderful community for your support of our schools," said Martha Monahan, Center Street School principal. "The library, in an elementary school, is truly the center of the school. Although technology has become integral to learning, instilling a love of reading and books in our students is essential and there is absolutely no replacement for the feeling one gets spending time with a book that you can't put down."
Adults and students alike will enjoy the new space that will serve as both the student library and a meeting space for faculty and parents.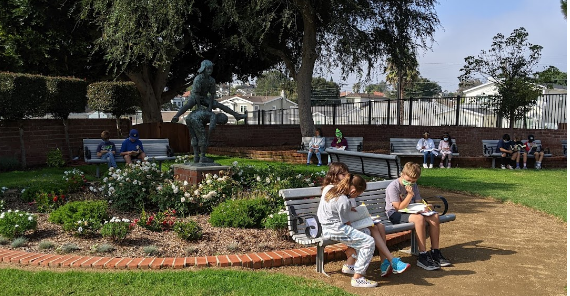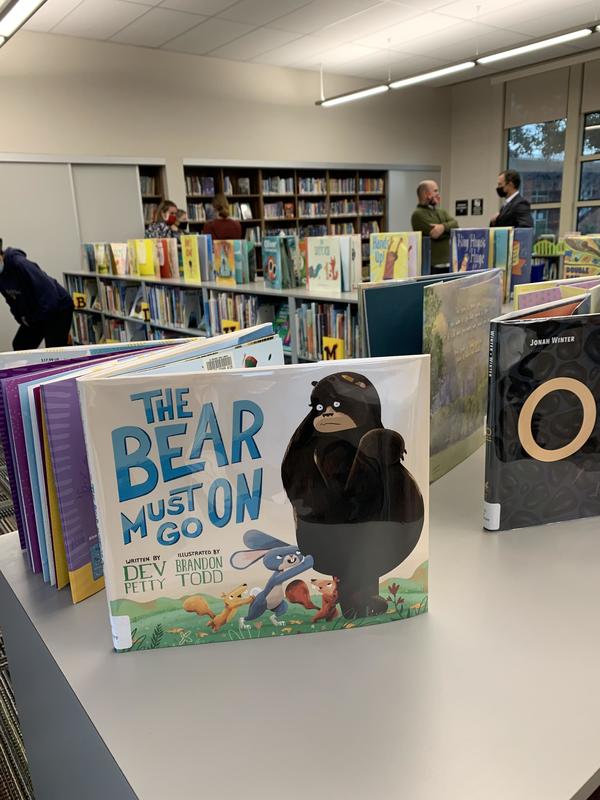 .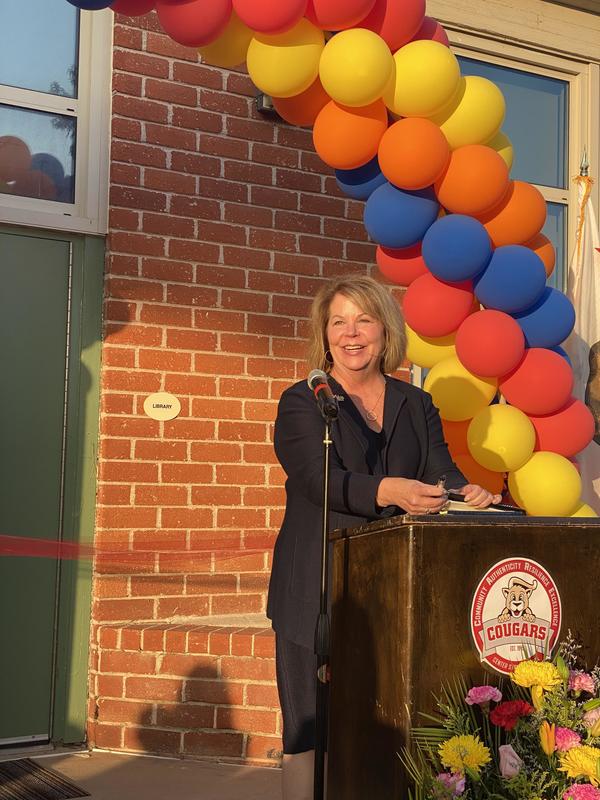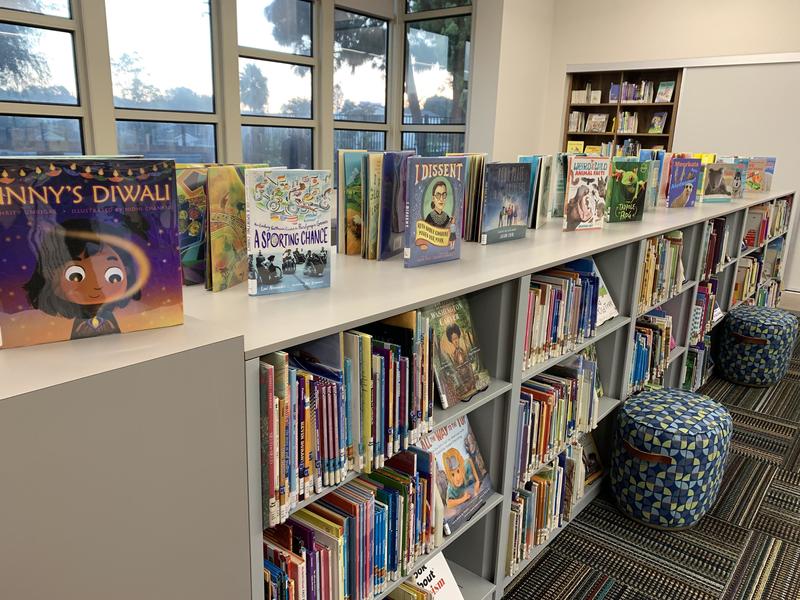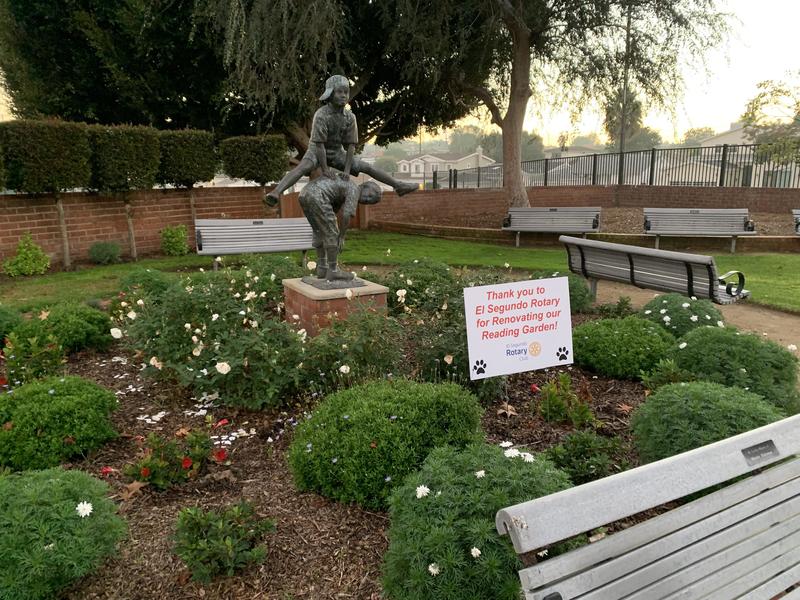 Rotary Club Cares for Center Street's Literacy Garden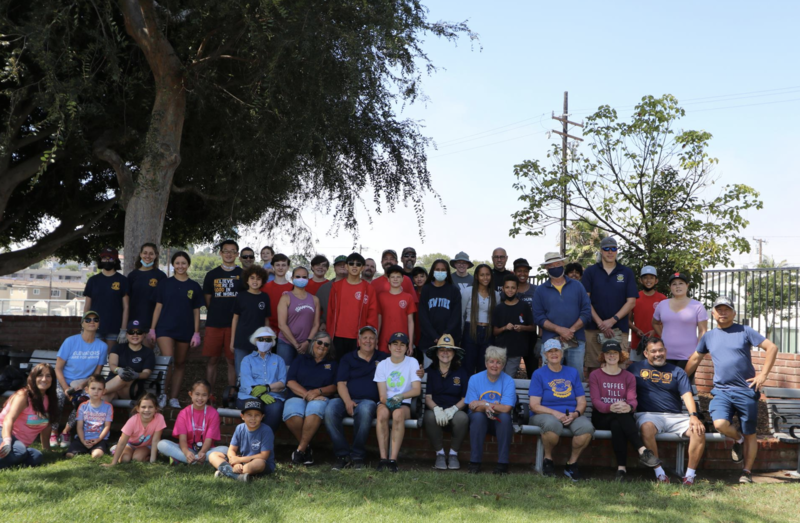 The El Segundo Rotary Club recently took the lead organizing volunteers and funding to restore and beautify Center Street School's Literacy Garden, which is right outside the school's newly remodeled Library. Each year, the local Rotary Club organizes a community philanthropic project and since the club was responsible for originally creating the Literacy Garden in 2003, this was a fitting labor of love!
The garden needed some "TLC" following the close of schools for in-person instruction during the pandemic. Over two days, a group of 50 volunteers from Rotary, a local contractor, the Boy Scouts, community members, El Segundo High School Rotary Interact student members, and ESUSD came together to weed, plant, lay gravel, power wash the area, and paint benches.
Funding for this project was generously donated by Chevron and Rotary District 5280. Students now have a peaceful, beautiful outdoor area to gather, study, and enjoy their favorite books! Thank you to all who donated their time and resources to the restoration of the Literacy Garden, and to Chris Powell, Rotary Club treasurer, for overall organization of this project.
View photos of the CSS Literacy Garden project here.