ESUSD hosted a ribbon-cutting ceremony on Nov. 30, 2021, for the El Segundo High School Library modernization project.

New Space Promotes Collaboration, Sense of Community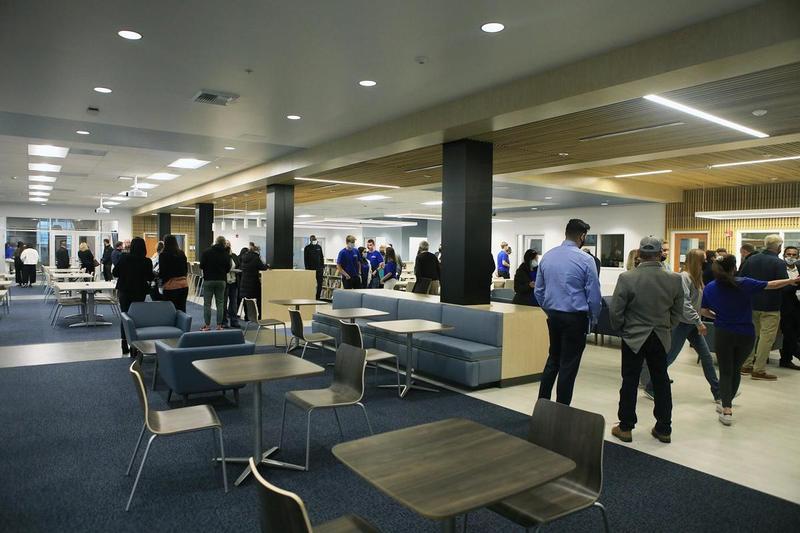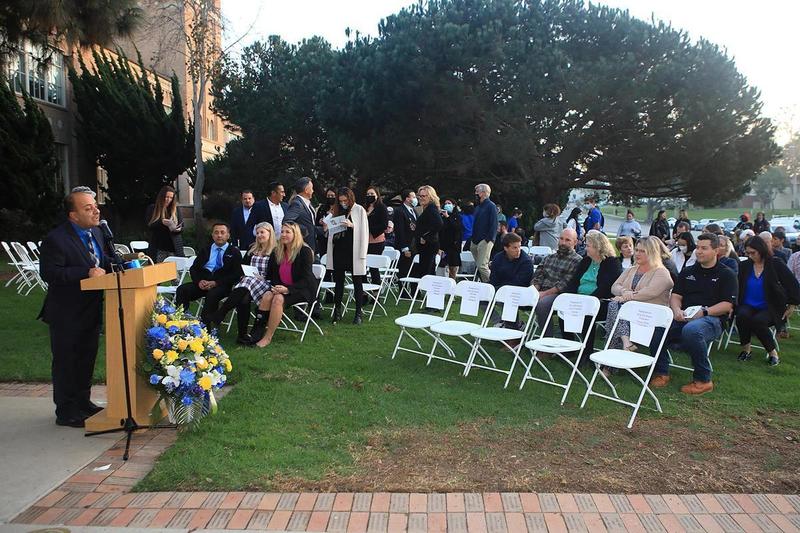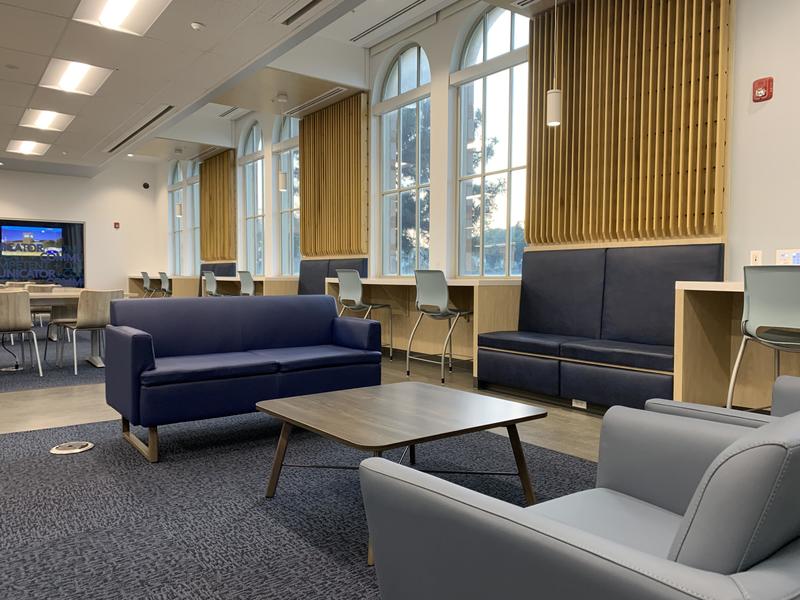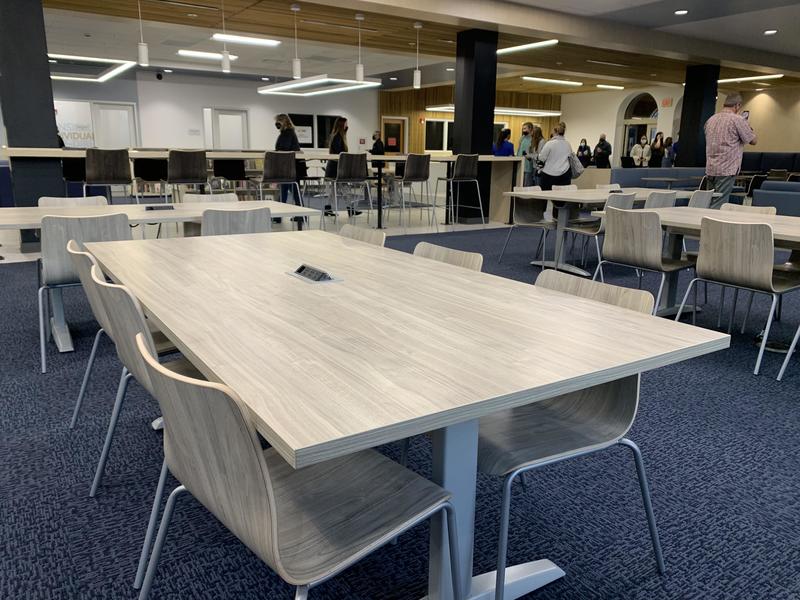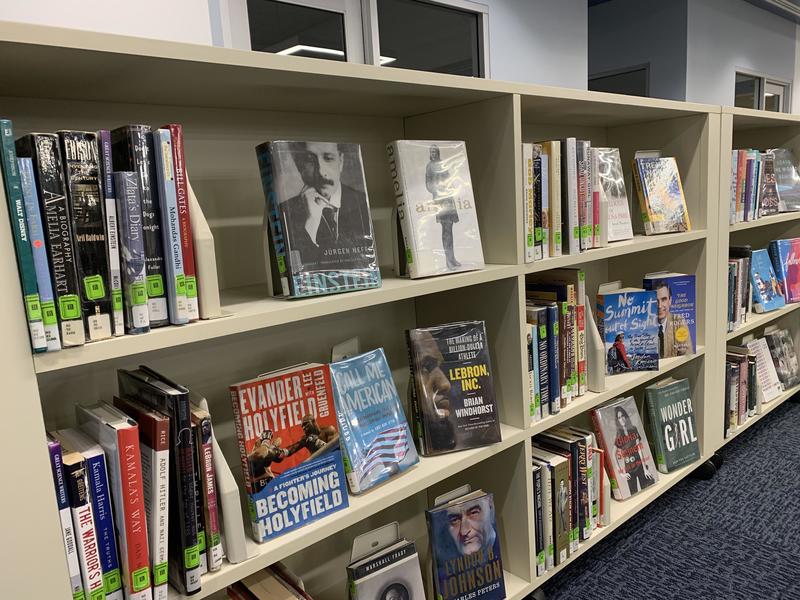 The ESHS library received a complete renovation and modernization funded by the 2018 Measure ES facilities bond. The 6,678 square-foot space has been transformed into a modern, comfortable, dynamic, and technology-friendly space for students. Dr. Melissa Moore, ESUSD superintendent, shared, "the reimagined library is aligned to cultivate the competencies outlined in the ESUSD Graduate Profile and will serve as an engaging extended learning hub where our students can gather and work individually on homework or in teams on collaborative projects."
The library features an all-new interior with a modern bookstore/"coffee house" atmosphere with multiple spaces for students to gather, collaborate, and study individually or in groups. It incorporates flexible furniture that enables transformation of the space into different configurations within minutes. It is designed to be perfect space for community meetings or gatherings.
The reimagined interior also includes a new ADA accessible reception area, decorative ceiling and flooring design, moveable book stacks for flexible use of the space, modernization of existing study rooms, and the addition of two new rooms for a total of six private study rooms. All separate rooms feature storefront window views that physically connect them to the rest of the library. The interior design incorporates completely new fixtures and furnishings that are durable, lightweight, and on wheels to facilitate variable reconfiguration of the space. An upgraded alumni Hall of Fame has been relocated in the Performing Arts Center auditorium where even more community members can experience the high school's rich history and student successes.
Technology upgrades include wireless internet access throughout the space. The study rooms incorporate upgraded technology connections, and digital displays to allow for 21st century collaboration. The library now has the infrastructure to enable students to share content and work together effortlessly. There are two large projector screens and projectors with updated A/V technology, enabling the library to host medium- or large-sized presentations. The new lighting design includes smart features, including lighting sensors that adjust with the natural light in the space as well as occupancy sensors that turn the lights off when the library is unoccupied.
The El Segundo Unified School District and the City of El Segundo have a long-standing partnership regarding library services. Since the early 1990s, the City and District partnership provides for City librarians to offer services to ESUSD students. At each school library, students can easily access the entire collection of the El Segundo Public Library. Such access enables ESUSD students to actively grow and develop as competent and confident communicators. With this partnership, the ESHS library will be a dynamic collaborative hub for students with operating hours from 7:30 a.m. to 6:00 p.m.
Research shows that physical space alone can improve student learning. ESUSD believes that students need and deserve comfortable, creative spaces that inspire learning. The new ESHS library achieves this goal and will provide all the necessary tools and supports for students to access information and enhance learning.
"I extend a sincere thank you to our community for coming together for the successful passage of Measure ES," said ESUSD Superintendent Melissa Moore. "YOU have made this all possible! Thank you to ESUSD employees, board members, community leaders, and most importantly to the voters of the City of El Segundo, for your support of our students at the El Segundo Unified School District!"