At the El Segundo Unified School District (ESUSD) Board of Education meeting on April 12, 2022, the Board appointed Steve Gebhart as the new principal of El Segundo High School. His appointment is effective July 1, 2022.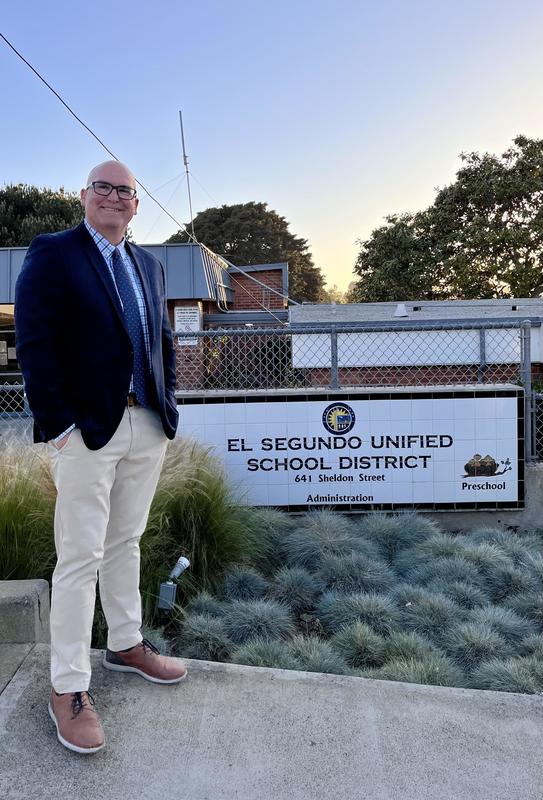 Gebhart has 22 years of experience in secondary education all within the Los Angeles Unified School District. He began his career in education as a high school English teacher for 12 years. He first taught at Gardena High School for four years followed by eight years educating students at San Pedro High School, and later serving as department chair and an instructional coach serving on various committees. He was then promoted to assistant principal at Los Angeles High School where he served from 2012-2014, followed by an appointment as principal of Dana Middle School where he served for six years.
In August 2020 during unprecedented times in education, he was named principal of San Pedro High School. The high school serves 2,600 students on two campuses and employs a staff of more than 200. In addition to the traditional pathway, San Pedro High includes a school for advanced studies, visual and performing arts, a gifted STEAM Magnet, Marine Science Magnet, Police Academy Magnet, athletics program featuring 20 sports, and an award-winning band and auxiliary.
Gebhart remains a teacher first, is grounded in the classroom, and his knowledge of curriculum and instructional best practices is notable. He values a trauma-informed approach in leadership and school operations. This approach focuses on building relationships, both student-to-adult and adult-to-adult, in an effort to create an environment of support and understanding so all people on campus can function at their best, be successful and, most importantly, feel supported and understood.
"When I first heard about this opportunity, I was excited about the possibility of serving at El Segundo High School because of its reputation and community pride," said Gebhart. "After working my entire educational career to this point at a mega district, it is appealing to me to join a district where I believe there is an ease of access to district leadership and collaboration is encouraged to nimbly address the unique needs of the high school for the benefit of its students. I look forward to building relationships, partnerships, and a culture of inclusion in pursuit of all students, staff, and community members being acknowledged and supported."
Gebhart earned both his master's degree in educational administration and a bachelor's degree in English literature from California State University, Dominguez Hills.
Dr. Melissa Moore, ESUSD superintendent shared, "Steve Gebhart received outstanding reviews as an educational leader from several individuals who worked with him over the course of his career. He leads by example, has a collaborative leadership style, and is known for building and empowering the teams he works with. He has a reputation for putting students first, having an open-door policy for stakeholders, treating all individuals with respect, and ensuring school communications are prompt and accurate."
Tracey Miller-Zarneke, ESUSD Board of Education President, said, "The ESUSD Board of Education and I are pleased to welcome Steve Gebhart to our school community. We believe his experience and perspective will be well-suited for El Segundo High School and that he will be a wonderful addition to the amazing staff in our district."
Gebhart was raised in the South Bay area. Now a resident of San Pedro, he enjoys spending time with his wife Luisa and their five children. Dr. Moore welcomes Steve Gebhart to his new role and is confident he will lead El Segundo High School in service of students, teachers, staff, and community.