The El Segundo Teachers Association and the El Segundo Unified School District are happy to announce the Educators of the Year for 2021-2022. Each year, the El Segundo Teachers Association coordinates nominations and the selection process to honor one teacher at each school site.

The El Segundo Teachers Association and the El Segundo Unified School District are happy to announce the Educators of the Year for 2021-2022. Each year, the El Segundo Teachers Association coordinates nominations and the selection process to honor one teacher at each school site. The following are this year's honorees:
Kristen McCann, Reading Teacher/Literacy Specialist, Center Street School
"Eight years ago, I had the fortune of hiring a literacy specialist who is knowledgeable, professional and fully committed to the students and staff at Center Street School," said Center Street School Principal Martha Monahan. "This, however, does not begin to express the miracle that is Kristen McCann."
At her core, Ms. McCann believes in the power of the written word to instruct, inspire and enrich the lives of all people and in the primary role that it plays in the success of all students. As a reading teacher, Ms. McCann provides the essential, daily small-group instruction in a caring and supportive environment. In addition to this, her support of professional development for her peers at our school has been integral to our transition to Readers and Writers Workshop.
She is continuously searching for the most up-to-date literature to hone her craft to make the teaching and learning of reading clear and easily accessible to faculty and students alike. Recognizing that some students, despite multiple interventions, were not learning to read well, she reached out for training and introduced the Sonday reading intervention to these students, which brought about rapid success! She also saw a need for all of our elementary teachers to gain a deeper understanding of the signs of dyslexia and ways to identify students who may have this processing challenge. She then shared her learning with all elementary teachers through her presentation at Empower ESUSD (professional development session).
Beyond her professional dedication and expertise, Ms. McCann is a truly kind, caring, and thoughtful human. "I rely on her to find clarity in complex issues involving people, vision and alignment. She is respected and loved by the entire Center Street staff. She is a treasure," said Monahan.
Phuong Uzoff, Project Lead The Way (PLTW) Teacher, Richmond Street School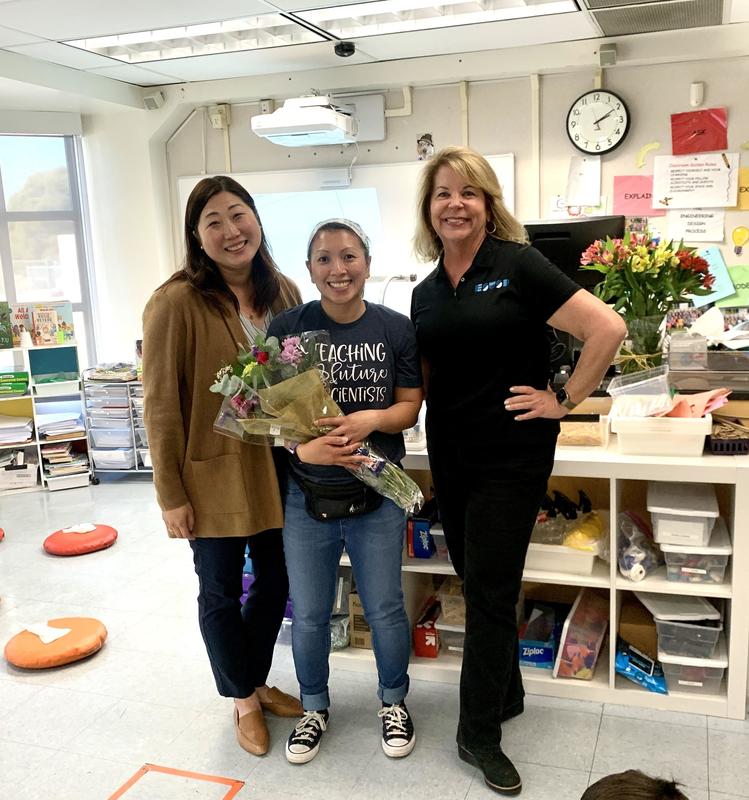 Dr. Phuong Uzoff is an exemplary educator. Her dedication to providing science, technology, and engineering instruction to our students is unparalleled. Dr. Phuong Uzoff embodies Richmond Street School's vision statement of "We Activate, Transform, and Empower at Richmond." Her curriculum, pedagogical approaches, and ability to think vastly within and outside the standards, makes her an outstanding educator. She develops her units that connect deeply to real world problems and challenges students to design solutions that are actionable, immediate, and impactful.
This year, Dr. Uzoff developed an ECO-Friends lunch club to engage and activate students around global warming and how to make changes to preserve our world and environment. These "Empowered ECO-Friends Environmentalists," as she calls this transformational team of students, developed a series of solutions to address the litter on campus, ideas for food composting, recycling, and reducing plastic waste. This club is in addition to the weekly Project Lead the Way (PLTW) sessions students receive where they attend during lunch time to learn about detailed causes for climate change, the impact of pollution, and the consequences these phenomena have on our planet. Students have picked up trash during their lunch recesses, measured weekly the pounds of trash deposited around campus, and been inspired to speak with their classmates about being more conscientious about their footprints around our school community. This is just one of many examples of how Dr. Uzoff creates rich and meaningful learning opportunities for students. Students' ideas, budding thoughts, and curiosities are taken seriously, and through the inquiry cycle they lead to action and change. Dr. Uzoff's genuine enthusiasm for instruction, pedagogy, and science is palpable.
Sean Brandlin, I&S and TOSA, El Segundo Middle School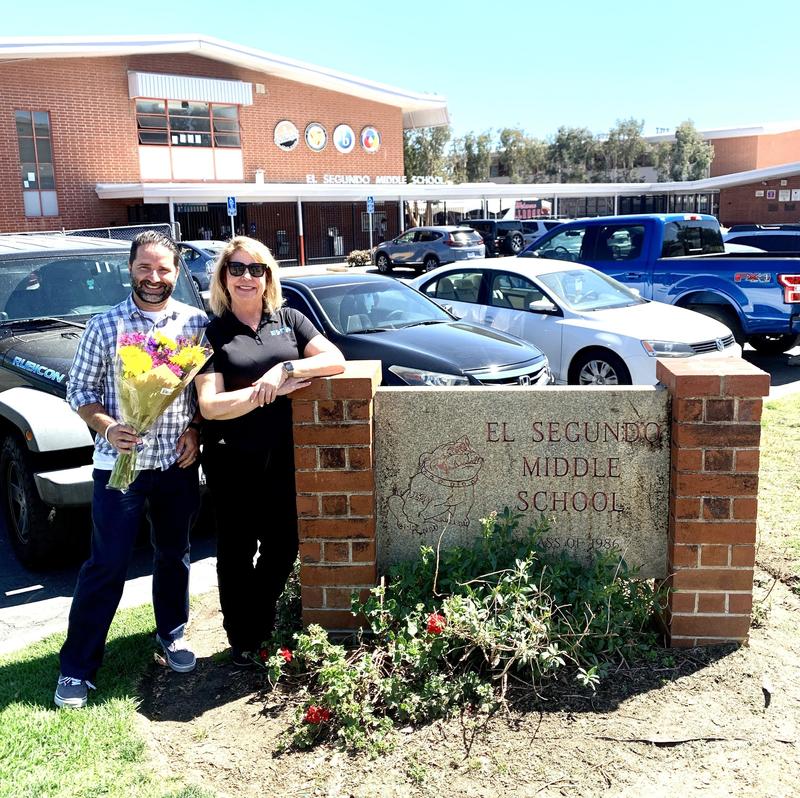 Innovative, engaging, risk taker—these are all words that describe Sean Brandlin's classroom. Mr. Brandlin is an 8th grade I&S teacher and TOSA at El Segundo Middle School. When people enter his class, they see students engaged, not just with him presenting content but with each other. It is a regular occurrence to see students on one side of the class or the other debating the issues of the past.
Students in Mr. Brandlin's class don't just use technology to present information, they use their technology to create videos, presentations, or music to demonstrate their learning. Just prior to the pandemic, was a small cohort of ESMS teachers using a new platform called Altitude. These teachers, led by Mr. Brandlin, were creating projects that allowed students to choose how to present what and how they learn. During distance learning, the teachers and students would not have been able to carry on their learning without the guidance and support of Mr. Brandlin. Altitude was embraced, begrudgingly sometimes, by all of the ESMS teachers and Mr. Bandlin were there to guide their colleagues through this implementation.
Mr. Brandlin's ability to engage students in history and integrate technology in ways that students and teachers find engaging is one of the many reasons he was named ESMS' Teacher of the Year.
Samantha Slama, English Teacher, El Segundo High School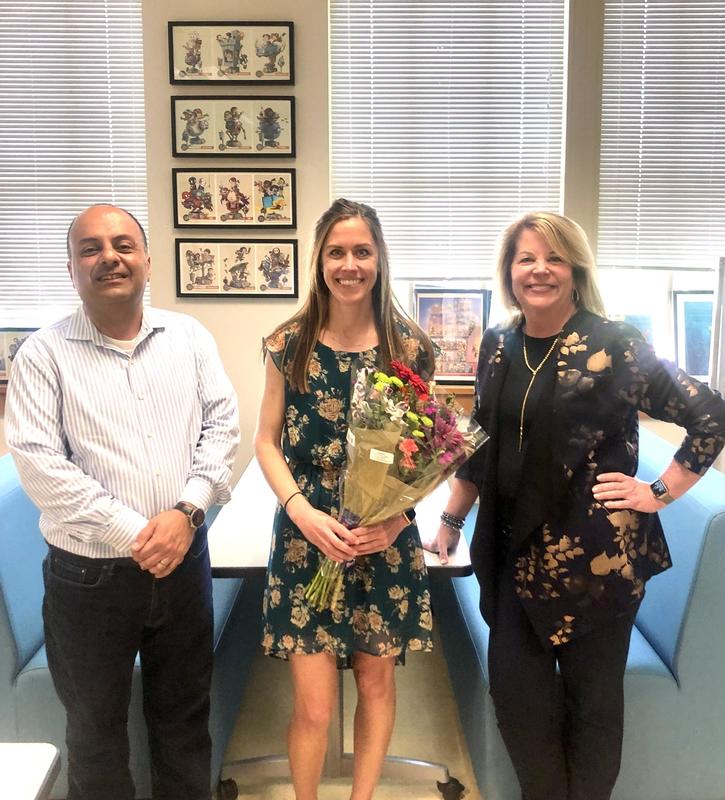 Sam Slama joined the El Segundo High School faculty in fall of 2016 as an English teacher. Prior to transitioning into teaching, Ms. Slama worked in the private sector. A graduate of UCLA, Ms. Slama also played Lacrosse there. She has embraced new ways of connecting with students and engaging them in the classroom. She is known as an expert in technology and frequently has teachers coming to her for support and guidance. One teacher commented, "I can go to Sam for just about any tech question and she not only answers my question, but gives me tips on how to make the technology even better for the students' learning and my teaching." In fact, Ms. Slama was instrumental in working to have our high school recognized as an Apple Distinguished School. At the same time, Coach Slama has guided the ESHS Lacrosse team to flourish into the program it is today. The high school community is very proud to have Sam Slama recognized as the ESHS Teacher of the Year.